The 2017 Mediterranean Enterprise Awards recognizes the excellence, hard work and innovative attempts of enterprises, outstanding individuals and companies across nations surrounding the Mediterranean Sea. The winners of the award are celebrated in their achievements to adapt, invest and develop their respective industries despite the volatile economic and political situations.
Globally recognized brand Sia Moore; has estimated 120 projects in 16 different countries, including; Qatar, Iraq, Russia, UAE, UK, Saudi Arabia and Azerbajian received the "Best Architecture Design Company -Turkey" award at the "MEDITERRANEAN ENTERPRISE AWARDS 2017.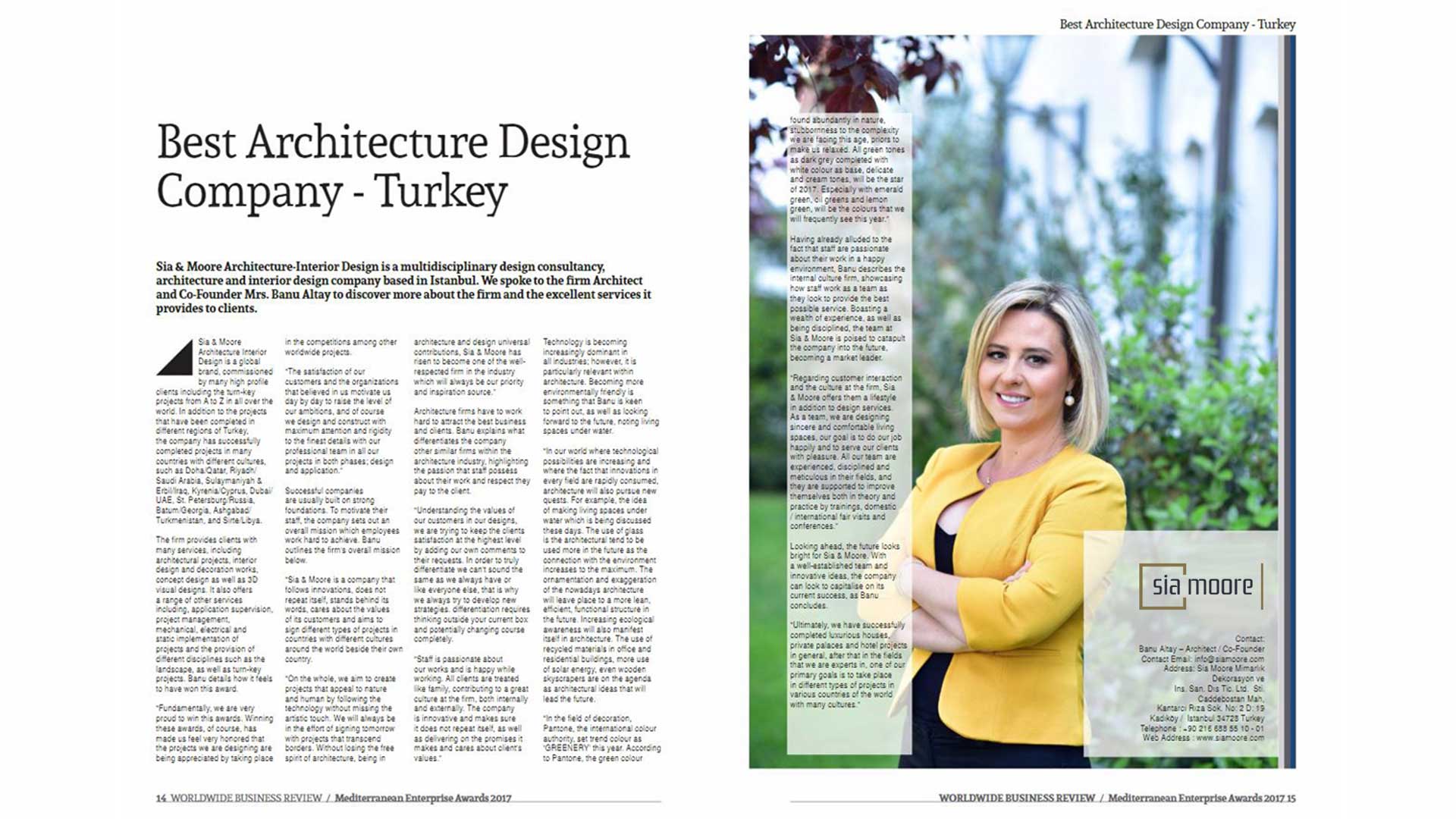 Sia Moore's team's expertise lies in projects of different scales such as private palaces, majlis, mansions, parliamentary buildings, hotels and social spaces. With the increasing volume of work in Doha, Sia Moore expanded to Qatar region and in 2014 "Sia Moore Design & Fitout W.L.L." company has been established in Doha. Sia Moore designed top tier projects for the Emirates in Qatar and carried out wide range of works which consequently delivered company as one of the upmost architectural firms in region. In 2017, Sia Moore realized a signature turn-key Hotel project in Doha, Qatar, designed by world-renowned Marcel Wanders. As the leading Fit-Out Contractor, Sia Moore completed all public areas of the prestigious Mondrian Doha Hotel.
Offering turn-key projects from A to Z in all over the world, Sia Moore provides architectural and interior design services as; concept design and 3D visual design; the international company also presents a range of other services including, application supervision, project management, mechanical, electrical and static implementation of projects and the provision of different disciplines as landscape.