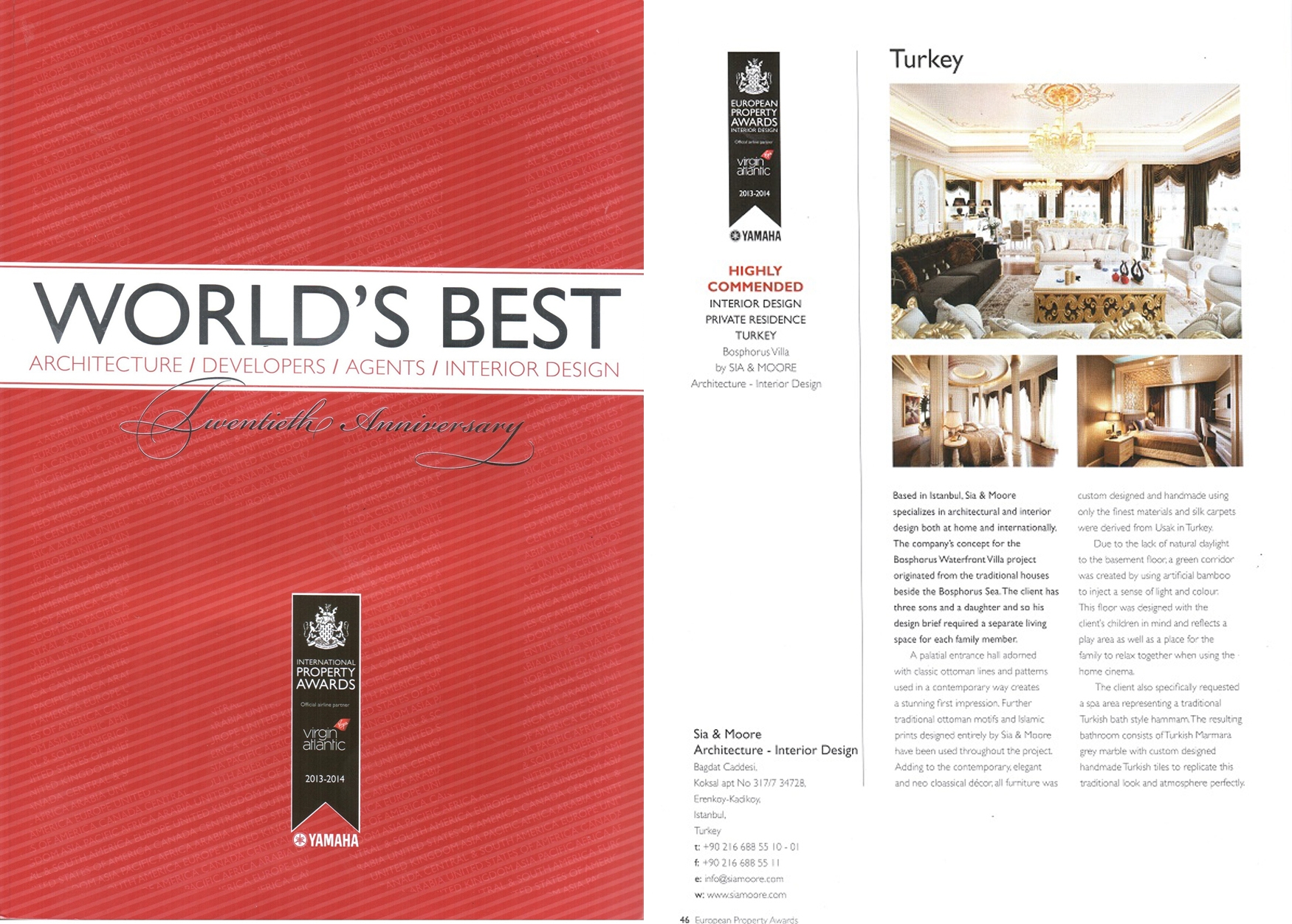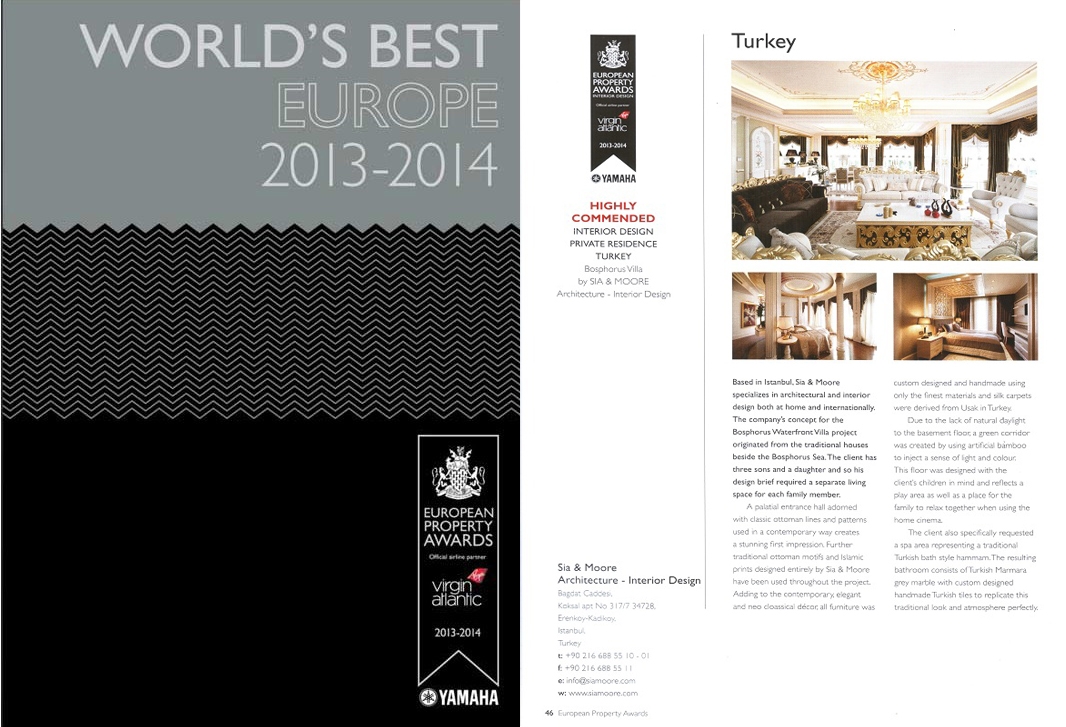 The International Property Award distinguishes best architectural and real estate agencies from each geographical region.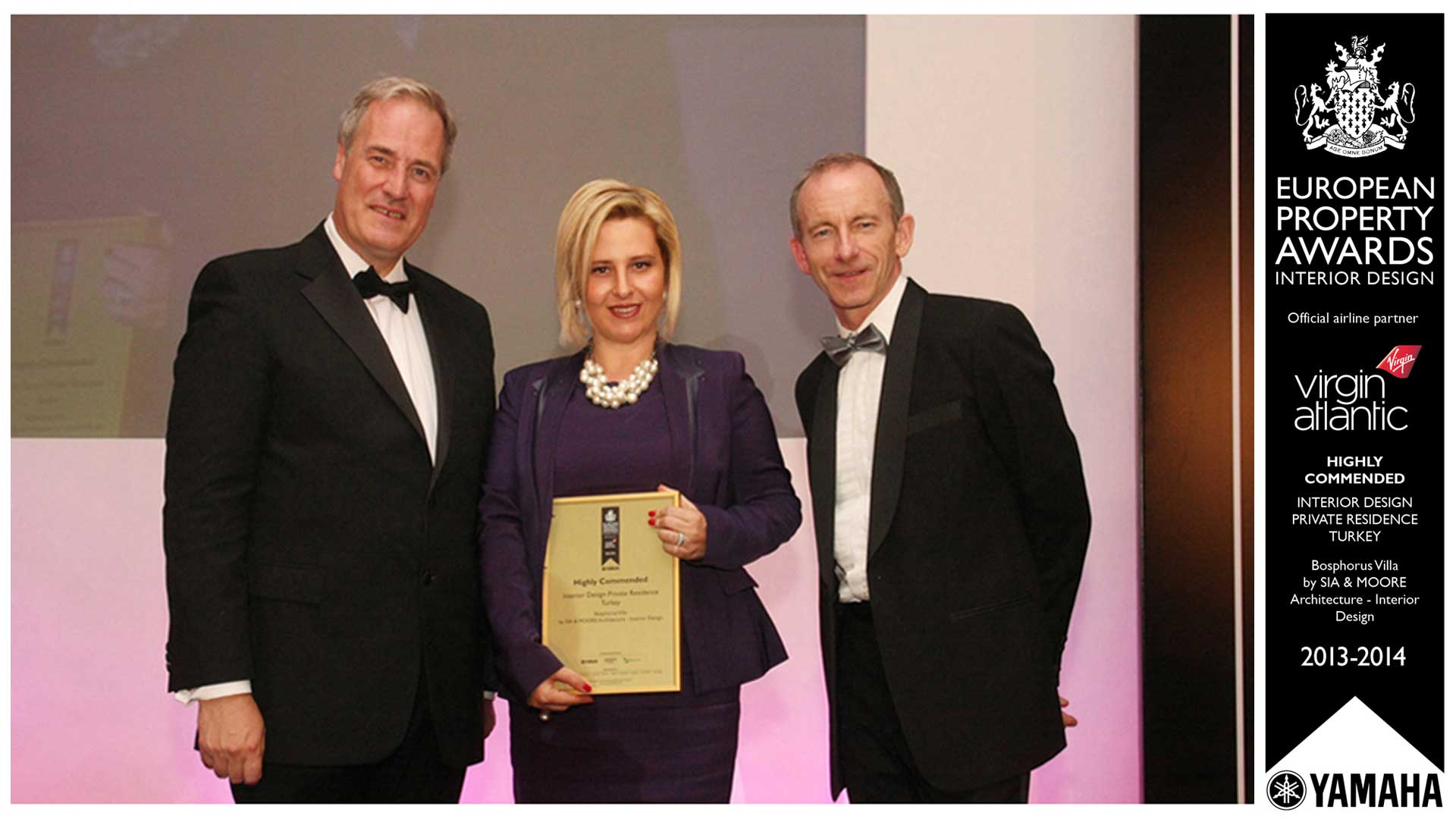 Participants of this world-renowned mark of excellence from Africa, Asia Pacific, Arabia, Canada to Caribbeans, Central & South America, Europe, UK and USA are judged by a highly experienced jury who cover the whole range of architectural property disciplines.
Globally recognized brand Sia Moore; has estimated 120 projects in 16 different countries, including; Qatar, Iraq, Russia, UAE, UK, Saudi Arabia and Azerbajian received the "Highly Commended Interior Design Private Residence Turkey" award at the "EUROPEAN PROPERTY AWARDS 2013-2014" with the "Bosphorus Villa Project".
The company's award-winning luxury village project adopts classical architectural style to a traditional and historical villa, located besides Bosphorus Sea in İstanbul. Decorated in a contemporary style, a palatial entrance hall has been adorned with classic ottoman lines and patterns to achieve a mesmerizing first impression and a light and spacious feel.
Throughout the project, traditional ottoman motifs and Islamic prints designed entirely by Sia Moore have been installed. In an elegant and neo classical decor, all furniture was custom designed and handmade; including silk carpets that were manufactured in Uşak, the Anatolian region of Turkey.
Due to the lack of natural daylight at the basement floor, a green corridor was created by using artificial bamboo to inject a sense of light and colour. Located at the same floor, to provide the client, a shared space for spending a quality family time altogether; a children's play room and a home cinema take part. A spa area was build as a traditional Turkish bath style "hammams" upon client's request. The resulting bathroom consists of Turkish Marmara grey marble with custom designed handmade Turkish tiles to replicate this traditional look and atmosphere perfectly.
All throughout the 420,000 square meter Villa, a bright, contemporary and luxurious feel was strived for, while centuries of İstanbul history becomes unearthed. The Bosphorus City Villa is a one of a kind project with beautiful patterns, marvelous decorations and airy spaces.