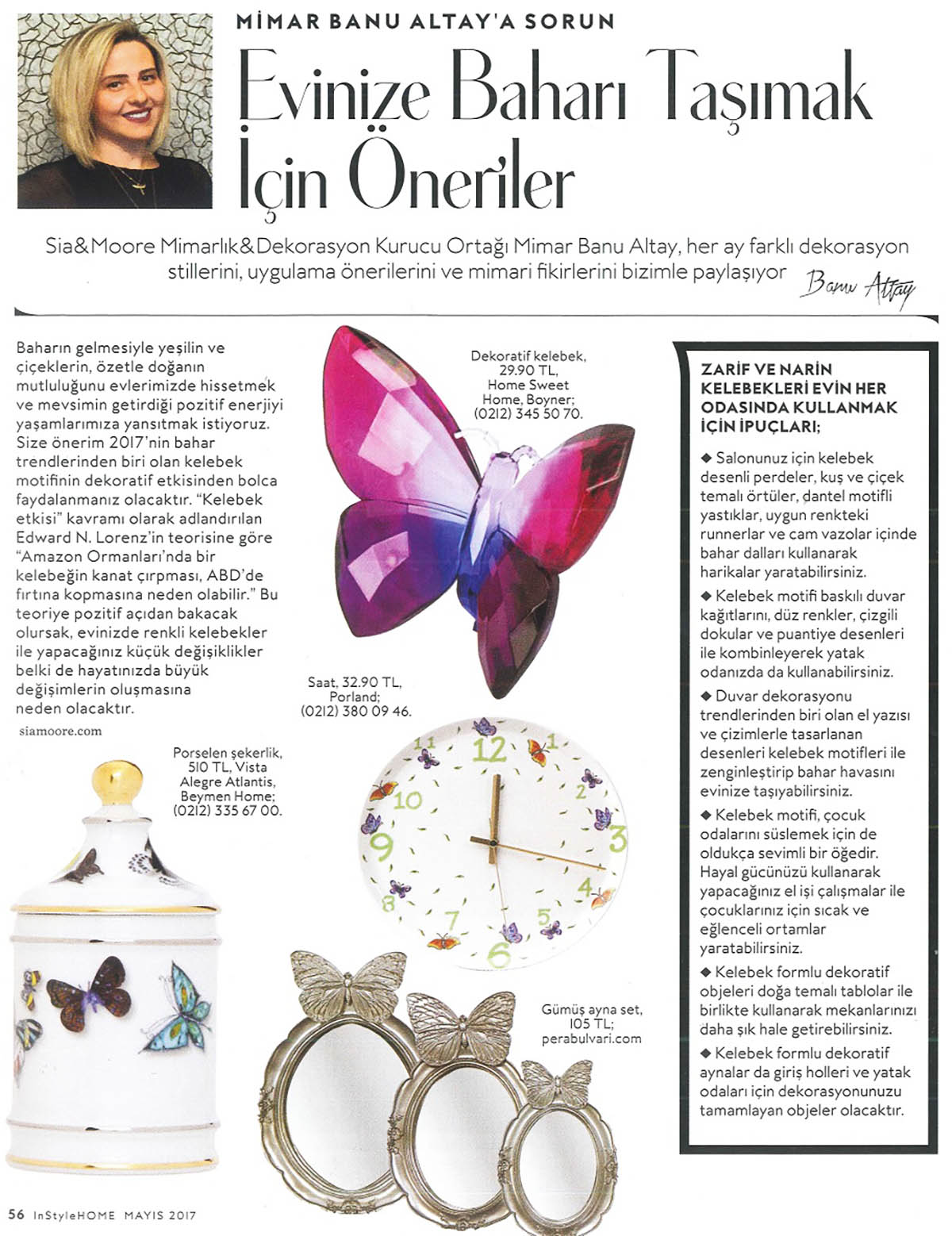 Architect Banu Altay, Sia Moore Architecture Decoration Founding Partner, shares different decoration styles and application suggestions every month.
With the arrival of spring, we want to feel the happiness of green and flowers and nature in our homes and to reflect the positive energy brought by spring to our lives. We recommend you to benefit from the decorative effect of the butterfly motif, which is one of the spring trends of 2017. According to Edward N. Lorenz's theory of belki butterfly effect ın, dan flapping wings of a butterfly in the Amazon Forests can cause a storm in the US. "If we look at this theory from a positive point of view, perhaps a small change in your home with colorful butterflies may be it will cause great changes in your life.
siamoore.com
TIPS TO USE AN ELEGANT AND NARIN BUTTERFLIES IN EACH ROOM;
You can do wonders in your living room with curtains with butterfly patterns, covers with bird and flower themes, pillows with lace motif, runners with appropriate colors and sprigs in glass vases.
You can combine your butterfly motif wallpapers with plain colors, striped fabrics and spotted patterns in your bedroom.
Handwritten and hand-drawn patterns is a trend of wall decorations, and you can invite spring into your homes by enhancing those with butterfly motifs.
Butterfly motif is also a cute element to adorn kids' rooms. You can use your imagination to make handicrafts and create a warm and fun environment for your kids.
You can make your spaces more elegant by using butterfly-shaped decorative objects together with nature-themed paintings.
The butterfly shaped decorative mirrors will be the objects that complement your decoration for the entrance halls and bedrooms.