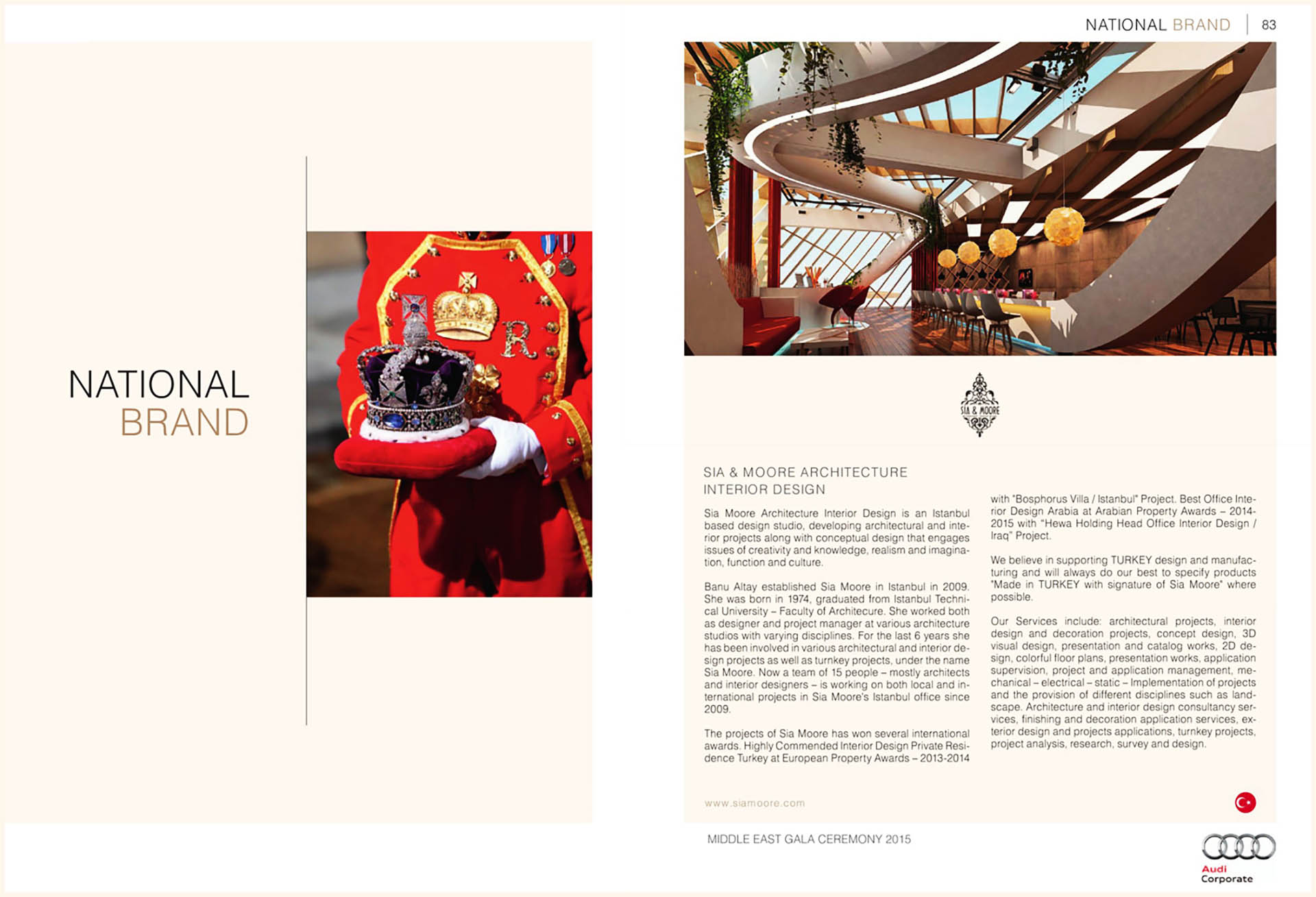 SIA MOORE ARCHITECTURE INTERIOR DESIGN
Sia Moore Architecture Interior Design is an Istanbul based design studio, developing architectural and interior projects along with conceptual design that engages issues of creativity and knowledge, realism and imagination, function and culture.
Banu Altay established Sia Moore in Istanbul in 2009. She was born in 1974, graduated from Istanbul Technical University – Faculty of Architecture. She worked both as designer and project manager at various architecture studios with varying disciplines. For the last 6 years she has been involved in various architectural and interior design projects as well as turnkey projects, under the name Sia Moore. Now a team of 15 people - mostly architects and interior designers - is working on both local and international projects in Sa Moore's Istanbul office since 2009.
The projects of Sia Moore has won several international awards. Highly Commended Interior Design Private Residence Turkey at European Property Awards – 2013-2014 with 'Bosphorus Villa / Istanbul Project. Best Office Interior Design Arabia at Arabian Property Awards – 2014-2015 with "Hewa Holding Head Office Interior Design / Iraq" Project.
We believe in supporting TURKEY design and manufacturing and will always do our best to specify products "Made in TURKEY with signature of Sia Moore" where possible.
Our Services include: architectural projects, interior design and decoration projects, concept design, 3D visual design, presentation and catalog works, 2D design, colourful floor plans, presentation works, application supervision, project and application management, mechanical – electrical – static – Implementation of projects and the provision of different disciplines such as landscape.
Architecture and interior design consultancy services, finishing and decoration application services, exterior design and projects applications, turnkey projects, project analysis, research, survey and design.