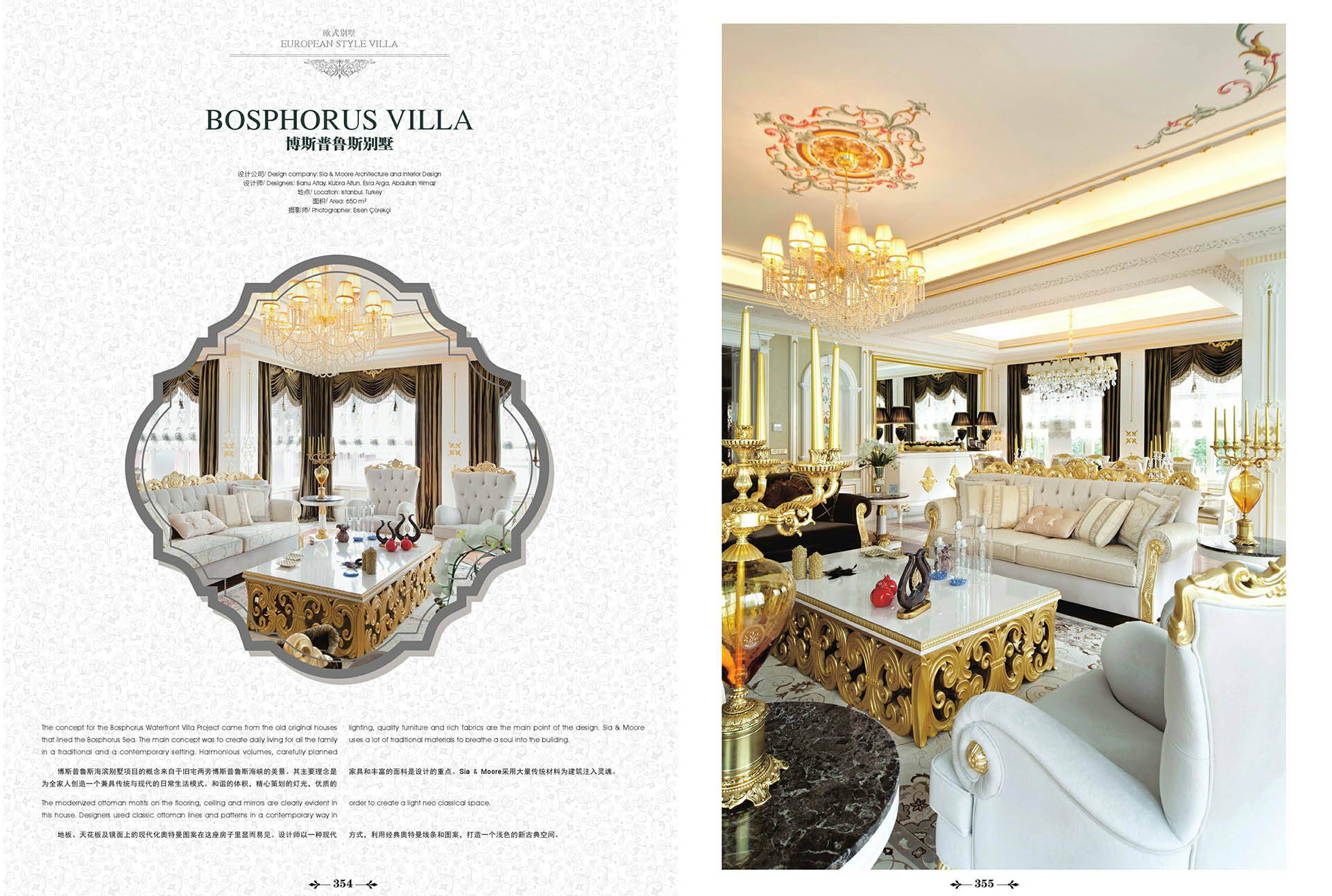 The concept for the Bosphorus Waterfront villa Project come from the old original houses that lined the Bosphorus Sea. The main concept was to create daily living for all the family in traditional and a contemporary setting. Harmonious volumes, carefully planned The modernised ottoman motifs on the flooring, ceiling and mirrors are clearly evident in this house. Designers used classic ottoman lines and patterns in a contemporary way in lighting, quality furniture and rich fabrics are the main point of the design. 
Sia Moore uses a lot of traditional materials to breathe a soul into the building order to create a light neo classical space. The areas in particular the designers are most proud of are the sitting areas on the ground floor living room. Because yurt user  all traditional elements of the Turkish living style. On the ground and first floor, richly decorated with copper and gold leaf and graced with imposing chimney pieces. On the basement floor is like a relaxing area with home cinema, spa and fitness area. The main salon, living room, the gallery and the home cinema are all immaculately decorated in a welcoming style. The magnificent wood carving panels in the main salon and dining room are used like a artwork. The important point of the decoration is to incorporate traditional ottoman motifs and islamic prints into the design of the house and create a light and open space in a classical style and for the interior decoration to reflect this theme. Traditional Turkish bathroom consisting of Turkish Marmara Grey marble custom designed handmade Turkish files the look and feel of this space replicates one of our oldest and most traditional bathroom styles called Hamam.
Spa bathroom has been decorated with ottoman pattern in turquoise blue handmade tiles. Due to the lack of natural daylight in the basement floor the designers created the green corridor using artificial bamboo to inject a sense of light and color into the spa hall. All the furniture was custom designed and they used only the most valuable handmade with silk carpet that derive  from Uşak in Turkey The four bedrooms were decorated in a resolutely classical spirt with a touch of modernity and of tradition and were designed as true private areas. The bedrooms have adopted to moden comforts white preserving the charm of classical architecture. Master bedroom brings together all the elements of luxury lighting, red velvet bedhead with gold leaf pretty fabrics over the bed and gentle harmony of cream and red.