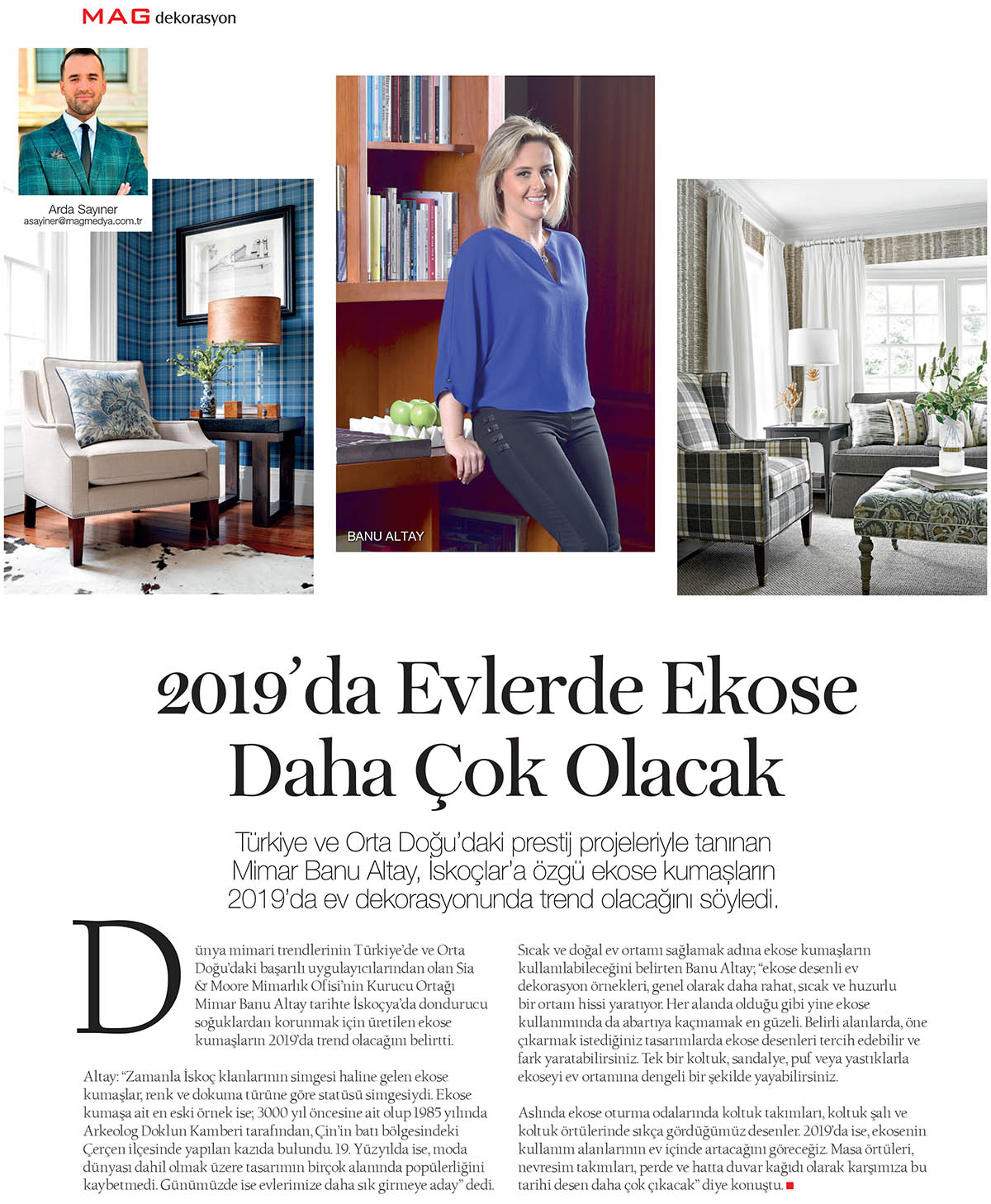 Known for her prestigious projects in Turkey and Middle East, Architect Banu Altay said that in 2019 plaid that is special to Scots' would be the trend in home decorations.
Out of all the successful practitioners in the world of architectural trends in Turkey and the Middle East, one of the co -founders of Sia Moore Architecture Office Architect Banu Altay says plaid fabric that is manufactured to protect from freezing cold in Scotland will be the trend in 2019.
Altay: "Plaid fabrics, which have become the symbol of the Scottish clans over time, were the symbol of status according to the color and type of weaving. The oldest sample of the plaid fabric belongs to 3000 years ago and it was discovered in 1985 by archaeologist Dolkun Kamberi, in the dig made in the town of Çerçen in western China. In the 19th century, it still has not lost its popularity in many areas of design, including the fashion world. These days, it is more likely to enter our homes more frequently" she said.
Banu Altay stated that "plaid fabrics can be used to provide a warm and natural home environment; plaid home decoration samples create a more comfortable, warm and peaceful feeling. As true in every field, it is the best to avoid exaggeration in the use of plaid. In certain places, you can choose plaid patterns in the designs you want to highlight and make a difference. In a seat, chair, puff or as pillows, you can evenly spread the plaid into the home environment.
In fact, we see the plaid patterns in the living room sofa sets, sofa shawls and seat covers. In 2019, we will see that the usage areas of plaid will increase within the house. This historic pattern will also appear as cloths, duvet covers, curtains and even as wallpaper" she said.