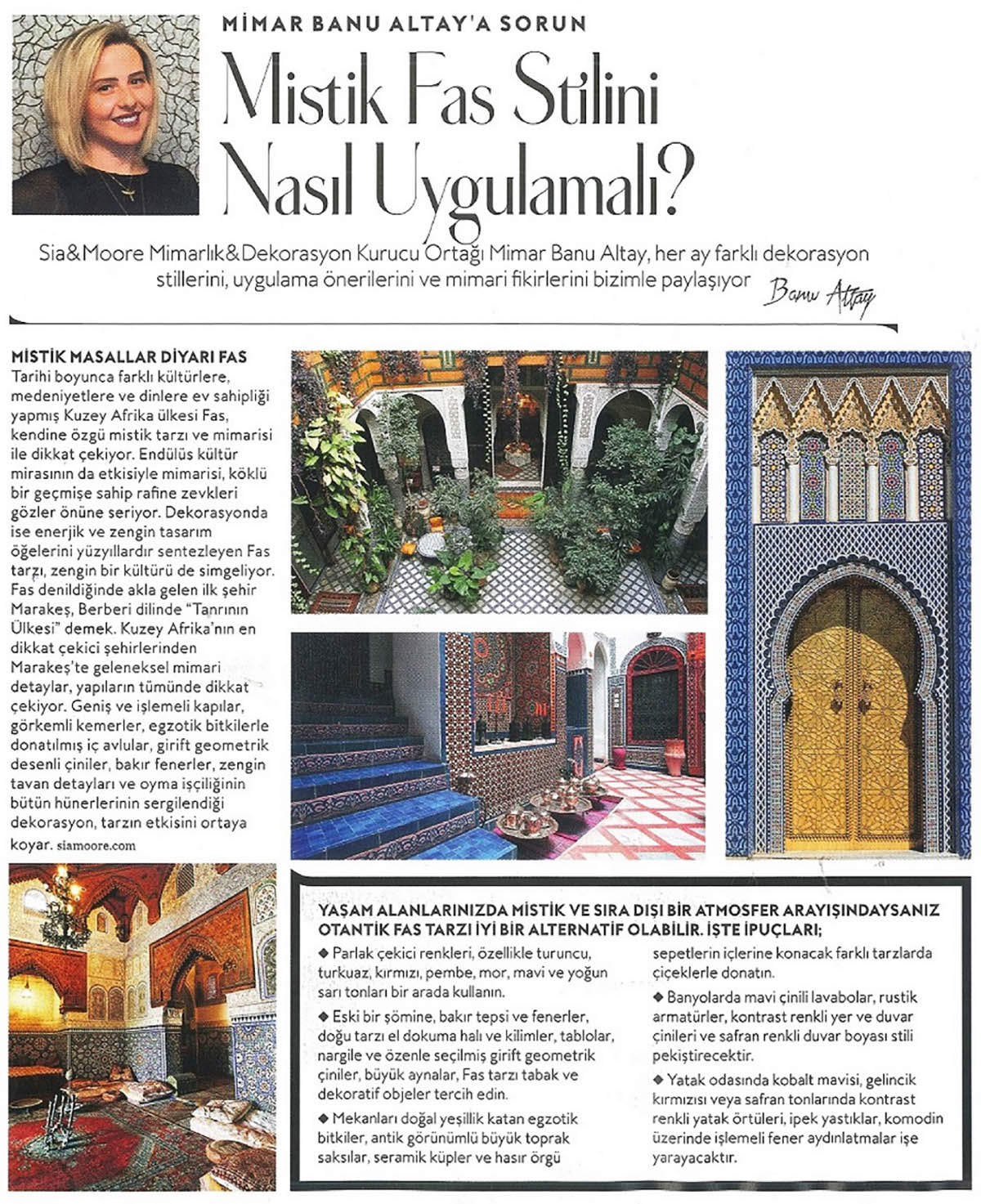 Morocco, the land of mystical tales
Morocco, a Northern African country that has been home to different cultures, civilizations and religions throughout history, catches our eyes with its unique mystical style and architecture. Thanks to the influence of its Andalusian cultural heritage, the architecture displays refined taste that have a deep-rooted past.The Moroccan style of decoration that has been integrating rich and energetic design elements for centuries also represents a rich culture. The first city that comes to mind when thinking of Morocco is Marrakech, whose name means "The Country of God" in Berber language. Marrakech, one of the most striking cities in North Africa, has remarkable traditional architectural details in all of its structures.
Broad doors with inlays, magnificent archways, interior courtyards decorated with exotic plants, ceramic tiles with elaborate geometric patterns, copper lanterns, rich ceiling details and an interior decoration that displays a whole range of woodcarving talent reveals the influence of that style.
YOU CAN BE A GOOD ALTERNATIVE IN AUTHENTIC MOROCCO STYLE IF YOU ARE LOOKING FOR METHODS IN MY LIFE AREA OF NON-METHODS AND EXCLUSIVE ATMOSPHERE. THESE TIPS TO YOU;
Go for an old fireplace, copper trays and lanterns, oriental hand-woven carpets and rugs, paintings, a hookah, hand-picked elaborate geometric ceramic tiles, large mirrors, Moroccan-style plates and decorative objects.
Furnish your spaces with exotic plants that have a natural green, big terracotta flower pots that have an antique look, ceramic cups and distinct flowers that can be placed in woven boxes.
In the bathrooms, blue tiled sinks, rustic luminaires, contrast colored floor and wall tiles and saffron-colored wall paint will reinforce the style.
For bedrooms, contrast color bed sheets with cobalt blue, corn rose or saffron tones, silk pillows, lanterns with inlays on the nightstand would be of service.