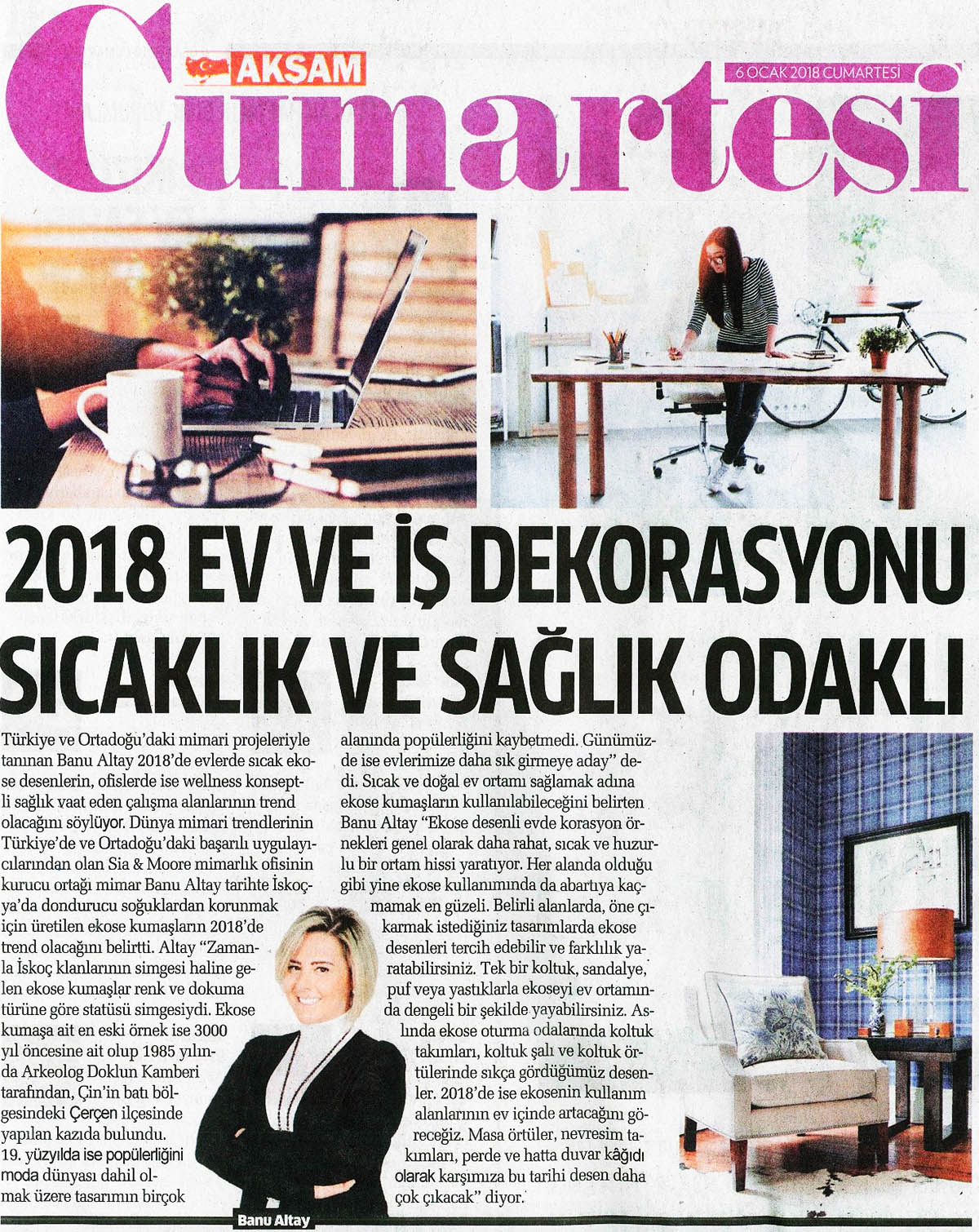 According to Banu Altay, who is known for her architectural projects in Turkey and the Middle East, this year's home decoration trend will be warm checkered patterns and office decoration trend will shift towards working spaces with a wellness-concept that promise health to the employees.
Dünya mimari trendlerinin Türkiye'de ve Ortadoğu'daki başarılı uygulayıcılarından olan Sia Moore Mimarlık ofisinin kurucu ortağı mimar Banu Altay tarihte İskoçya'da dondurucu soğuklardan korunmak için üretilen ekose kumaşların 2018'de trend olacağını belirtti. Altay "Zamanla İskoç klanlarının simgesi haline gelen ekose kumaşlar renk ve dokuma türüne göre statüsü simgesiydi. Ekose kumaşa ait en eski örnek ise 3000 yıl öncesine ait olup 1985 yılında Arkeolog Doklun Kamberi tarafından, Çin'in batı bölgesindeki Çerçen ilçesinde yapılan kazıda bulundu. 19. yüzyılda ise popülerliğini moda dünyası dahil olmak üzere tasarımın birçok alanında popülerliğini kaybetmedi. Günümüzde ise evlerimize daha sık girmeye aday'' dedi.
Banu Altay stated that checkered fabrics can be used to provide a cozy and natural home environment and added: "Home decoration samples with checkered patterns create the feel of a comfortable, warm and peaceful environment. But of course, as is always the case, one should not exaggerate the use of checkered patterns. You can prefer checkered patterns in certain areas, in designs that you wish to highlight and make a difference.
A single armchair, chair, sofa cushion or pillows can introduce the checkered pattern to your home in a balanced manner. As a matter of fact, we come across checkered patterns in sofa sets, throws and covers often. In 2018, we will see an increase in the use of checkered patterns across the house. Tablecloths, bed sheets, curtains and even wallpapers will make use of this historical pattern more."
Mimar Banu Altay