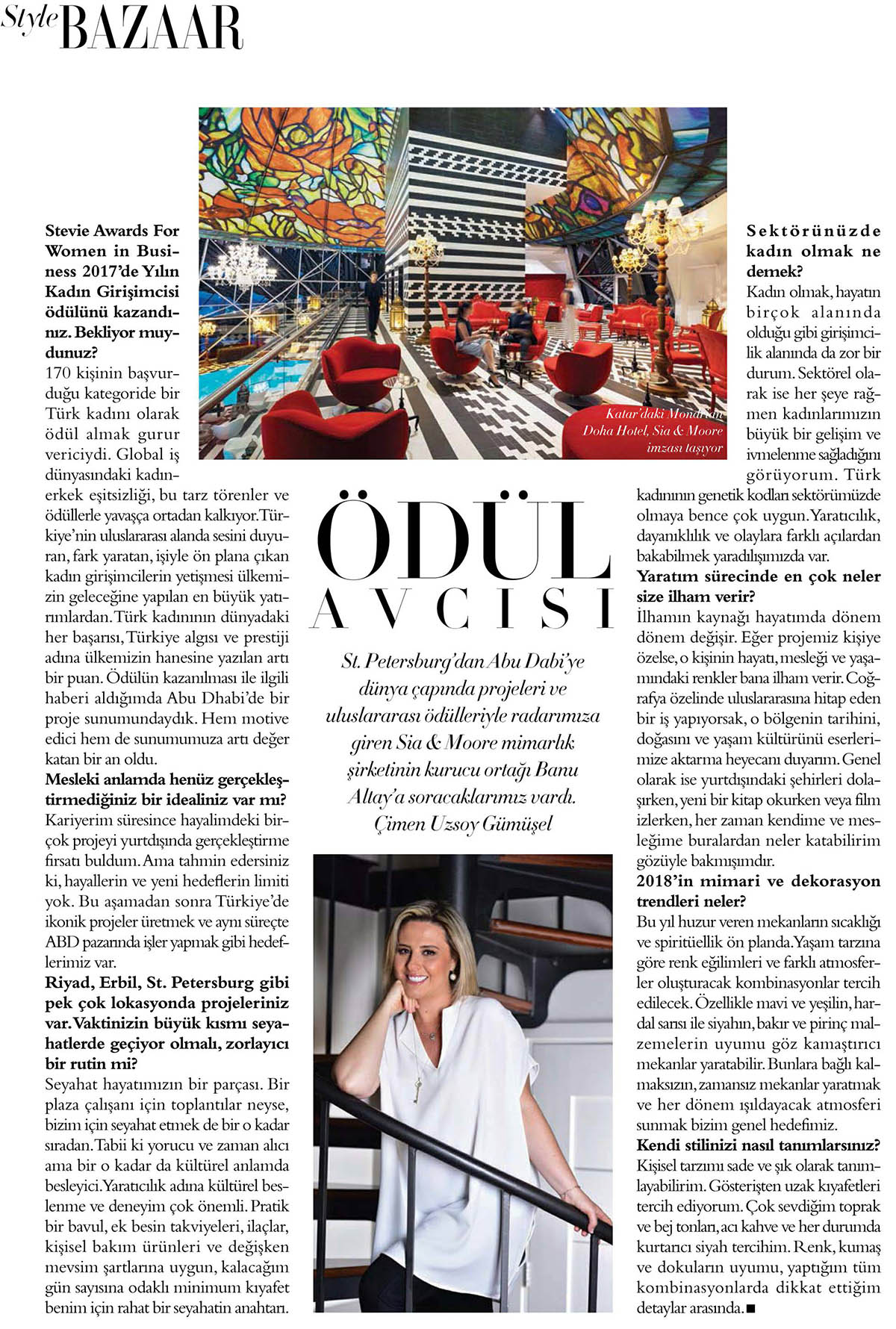 We had a few questions for Banu Altay, founding partner of Sia Moore Architecture, who has grabbed our attention by her world-renown projects that reach from St. Petersburg to Abu Dhabi and her international awards.
- You have won the Female Entrepreneur of the Year Award at Stevie Awards for Women in Business 2017. Had you expected to win?
It is a great source of pride to win an award as a Turkish woman in a category that had 170 nominees. The inequality of women and men in the global business world is slowly eradicating thanks to ceremonies and awards like this one. One of the biggest investments for our country's future is training female entrepreneurs that will put Turkey in the international spotlight, make a difference and be renown for their work. Every single success story by a Turkish woman is a positive development for how our country is perceived and regarded. I was at a project presentation in Abu Dhabi when I heard the news. It was motivating, and it also added value to our presentation.
- Do you have a professional goal, an ideal that you are yet to accomplish?
I have had the opportunity to realize many projects that I have dreamt of abroad. But as you would agree, there aren't any limits to one's dreams and goals. Our next goal is to complete iconic projects in Turkey and meanwhile undertake some projects in the US market.
- You have projects in many locations such as Riyadh, Erbil, St. Petersburg. That probably means you spend a lot of time traveling, is that an exhausting routine?
Traveling is a part of our lives. A "Plaza Worker" (white-collar employees working in the business district in Istanbul) has meetings, we travel; it is just ordinary. Of course it can become exhausting and time consuming, but it is also culturally enriching.
Such cultural nutrition and experiences are important for creativity. For me, the keys to a comfortable travel are a convenient suitcase, nutritional supplements, medicine, personal care products and clothing that is appropriate for climatic changes and is optimal for the number of days I'll be traveling.
- What does it mean to be a woman in your industry?
Just like in any other aspect of life, being a woman entrepreneur also has its difficulties. But despite all, I see that the women in our industry have progressed with great acceleration. I think that the genetic codes of Turkish women are very apt for our industry. Being creative, resilient and having different points of view is in our mold.
- What inspires you the most in your creative process?
My sources of inspiration change from time to time. If we are working on a custom personal project, I'm inspired by the said person's life, job and the colors in their life. If we are working on an international project, the idea of translating the history, nature and the culture of life in that region into our products excites me. Generally speaking, whenever I wander around cities abroad, or read a new book or watch a movie, I always contemplate what I can learn for both myself and my profession.
- What are the architectural and decorative trends in 2018?
This year, coziness and peacefulness of spaces and spirituality are in the forefront. People will gravitate towards colors that reflect their lifestyle and combinations that will create different atmospheres. To be specific, the harmony between blue and green, mustard and black, copper and brass could create dazzling spaces. But independent of those trends, we generally aim to create timeless spaces, and atmospheres that will always sparkle.
- How would you define your personal style?
I would say simple and elegant. I prefer low-key clothes. My favorite colors are shades of earth and beige, coffee, and my permanent savior, black. I always keep an eye on the harmony between the colors, fabric and texture in all my combinations.