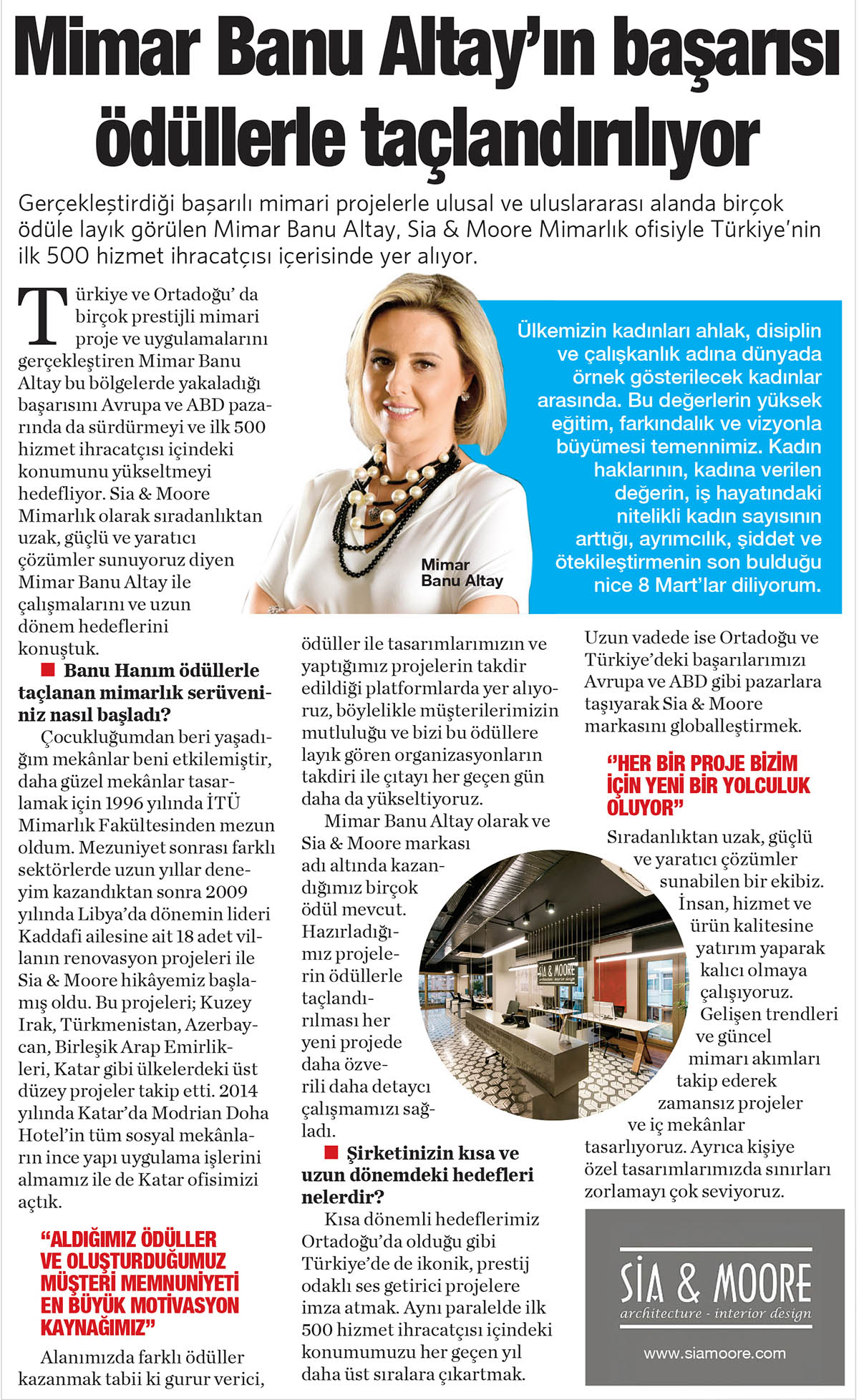 Banu Altay, whose successful architecture projects have received numerous awards in both national and international scenes, is also one of the top 500 service exporters of Turkey with Sia Moore Architecture Office.
Altay, who has completed many esteemed architectural projects and implemetations in Turkey and the Middle East, aims to extend her success into European and US markets and rise further in the service exporters list. According to Altay, Sia Moore offers strong and creative solutions far from the ordinary, and we spoke with her on her works and long-term goals.
- Ms. Altay, what started your architectural journey that is crowned with awards now?
I have been impressed by the spaces that I lived in since I was a kid, and in order to design even more beautiful ones I studied at ITU School of Architecture, from where I graduated in 1996. I have worked in various industries and gained experience afterwards, and our Sia Moore chapter began when we undertook the renovation project of 18 villas that belonged to the Gaddafi family who ruled Libya then. What followed were high-level projects in Northern Iraq, Turkmenistan, Azerbaijan, United Arab Emirates and Qatar; and upon becoming the leading fit-out constructor of all public areas in Mondrian Doha Hotel in Qatar in 2014, Sia Moore's Qatar office was founded.
"OUR BIGGEST SOURCES OF MOTIVATION ARE THE AWARDS WE RECEIVE AND OUR CLIENTS' SATISFACTION"
Of course it makes us proud to win different awards in our field; they carry us onto platforms where our designs and projects are recognized. That, along with our clients' happiness and the appreciation of such organizations, helps us raise the bar for the services we offer every day.
I have won many awards both as Banu Altay and under the Sia Moore umbrella. Such recognition has helped us work with an even more devoted and detail-oriented mindset at every new project.
- What are your firm's short-term and long-term goals?
Our short-term goal is to put our name on iconic, prestigious, hit projects in Turkey just like we have in the Middle East. Concordantly, we wish to improve our position on the 500 top service exporters list. In the long run, we would want to penetrate the European and American markets and turn Sia Moore into a global brand.
"EVERY PROJECT IS A NEW JOURNEY FOR US"
We are team that is far from the ordinary, and we have the capacity to offer strong and creative solutions. We strive for permanence by investing in human, service and product qualities. We follow the developing trends and current architectural movements and thus design timeless projects and interior spaces. We also enjoy pushing boundaries in our custom personal designs.
Women in Turkey are exemplary when it comes to ethics, discipline and hard work. Our wish is for these values to further develop with higher education, awareness and vision. I wish for many more March 8ths to come when woman rights will prosper, women's worth in society and the number of women in business will increase, and discrimination, violence and marginalization will end.