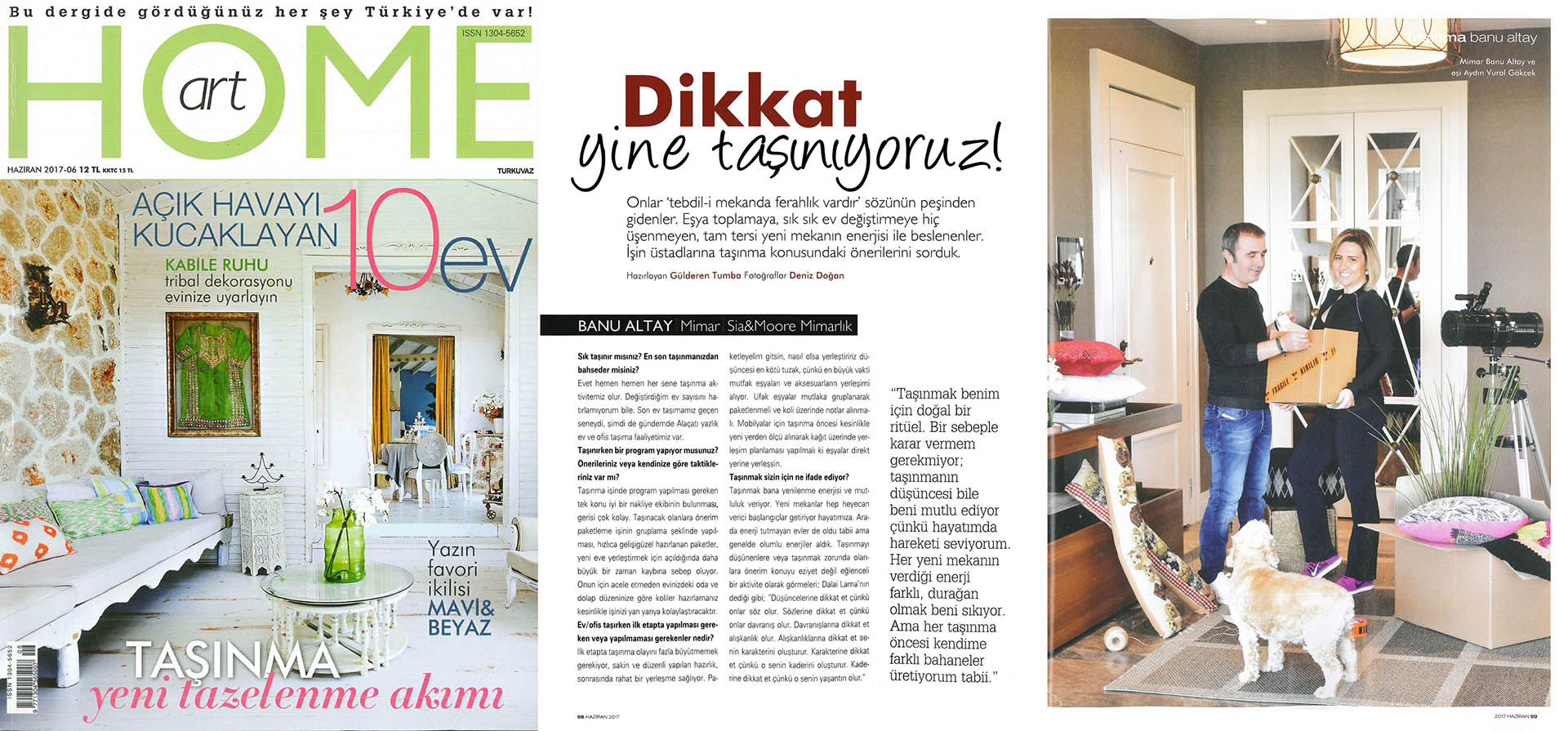 IT'S MOVING TIME AGAIN!
They follow the maxim "a change is as good as a rest." They are the ones who never grow tired of packing up and changing homes often but actually feed off the energy of a new dwelling. We have asked these moving experts for advice.
BANU ALTAY, ARCHITECT / Sia Moore Achitecture
"Moving is a natural ritual for me. I don't need to have to move; just the thought of moving makes me happy because I like to live my life in motion. Each new place has a different energy, I'm bored by immobility. But of course I come up with some excuses before I actually move places."
Do you move houses often? Can you tell us about your last moving experience?
Yes, we move almost every year. I don't even remember how many times I've moved. The last one was last year, and now there are two related items on my agenda: A summerhouse in Alaçatı and moving our office.
Do you plan ahead when moving? Do you have any advice, or a strategy that you yourself use?
The only thing you have to plan for when moving is finding a good moving company, the rest is quite easy. I would recommend packing things up in categories; if you throw everything randomly in boxes, unpacking and settling in turns into a huge waste of time. Therefore prepare your boxes slowly and carefully according to in which room or closet you keep your things, that will save you a lot of time later.
What is the first thing to do or not to do when moving to a new home/office?
First of all, do not make a big deal out of moving; a calm and orderly preparation means an easy settling in later on. The worst trap one can fall into is thinking "let's just pack everything up, we'll sort it out later", unpacking kitchenware and accessories takes the most amount of time. You must group small items and take notes on the boxes. And you need to measure your furniture and your new place beforehand so that you can plan the layout, with that in hand you can put the furniture right where you want it.
What does moving mean to you?
Moving rejuvenates me and makes me happy. New spaces always present us with exciting new beginnings. There were homes where we just didn't feel that vibe, but usually it was always a positive feeling. My advice to those who are thinking about moving or have to move is this; see it as an activity, not as a punishment. To quote Dalai Lama: "Take care of your thoughts because they become words. Take care of your words because they will become actions. Take care of your actions because they will become habits. Take care of your habits because they will form your character. Take care of your character because it will form your destiny, and your destiny will be your life."