ARCHITECT BANU ALTAY'S SUCCESS IS CROWNED WITH AWARDS
Banu Altay, whose successful architecture projects have received numerous awards in both national and international scenes, is also one of the top 500 service exporters of Turkey with Sia Moore Architecture Office.
Altay, who has completed many esteemed architectural projects and implemetations in Turkey and the Middle East, aims to extend her success into European and US markets and rise further in the service exporters list. According to Altay, Sia Moore offers strong and creative solutions far from the ordinary, and we spoke with her on her works and long-term goals.
- Ms. Altay, what started your architectural journey that is crowned with awards now?
I have been impressed by the spaces that I lived in since I was a kid, and in order to design even more beautiful ones I studied at ITU School of Architecture, from where I graduated in 1996. I have worked in various industries and gained experience afterwards, and our Sia Moore chapter began when we undertook the renovation project of 18 villas that belonged to the Gaddafi family who ruled Libya then. What followed were high-level projects in Northern Iraq, Turkmenistan, Azerbaijan, United Arab Emirates and Qatar; and upon becoming the leading fit-out constructor of all public areas in Mondrian Doha Hotel in Qatar in 2014, Sia Moore's Qatar office was founded.
"OUR BIGGEST SOURCES OF MOTIVATION ARE THE AWARDS WE RECEIVE AND OUR CLIENTS' SATISFACTION"
Of course it makes us proud to win different awards in our field; they carry us onto platforms where our designs and projects are recognized. That, along with our clients' happiness and the appreciation of such organizations, helps us raise the bar for the services we offer every day.
I have won many awards both as Banu Altay and under the Sia Moore umbrella. Such recognition has helped us work with an even more devoted and detail-oriented mindset at every new project.
- What are your firm's short-term and long-term goals?
Our short-term goal is to put our name on iconic, prestigious, hit projects in Turkey just like we have in the Middle East. Concordantly, we wish to improve our position on the 500 top service exporters list. In the long run, we would want to penetrate the European and American markets and turn Sia Moore into a global brand.
"EVERY PROJECT IS A NEW JOURNEY FOR US"
We are team that is far from the ordinary, and we have the capacity to offer strong and creative solutions. We strive for permanence by investing in human, service and product qualities. We follow the developing trends and current architectural movements and thus design timeless projects and interior spaces. We also enjoy pushing boundaries in our custom personal designs.
Women in Turkey are exemplary when it comes to ethics, discipline and hard work. Our wish is for these values to further develop with higher education, awareness and vision. I wish for many more March 8ths to come when woman rights will prosper, women's worth in society and the number of women in business will increase, and discrimination, violence and marginalization will end.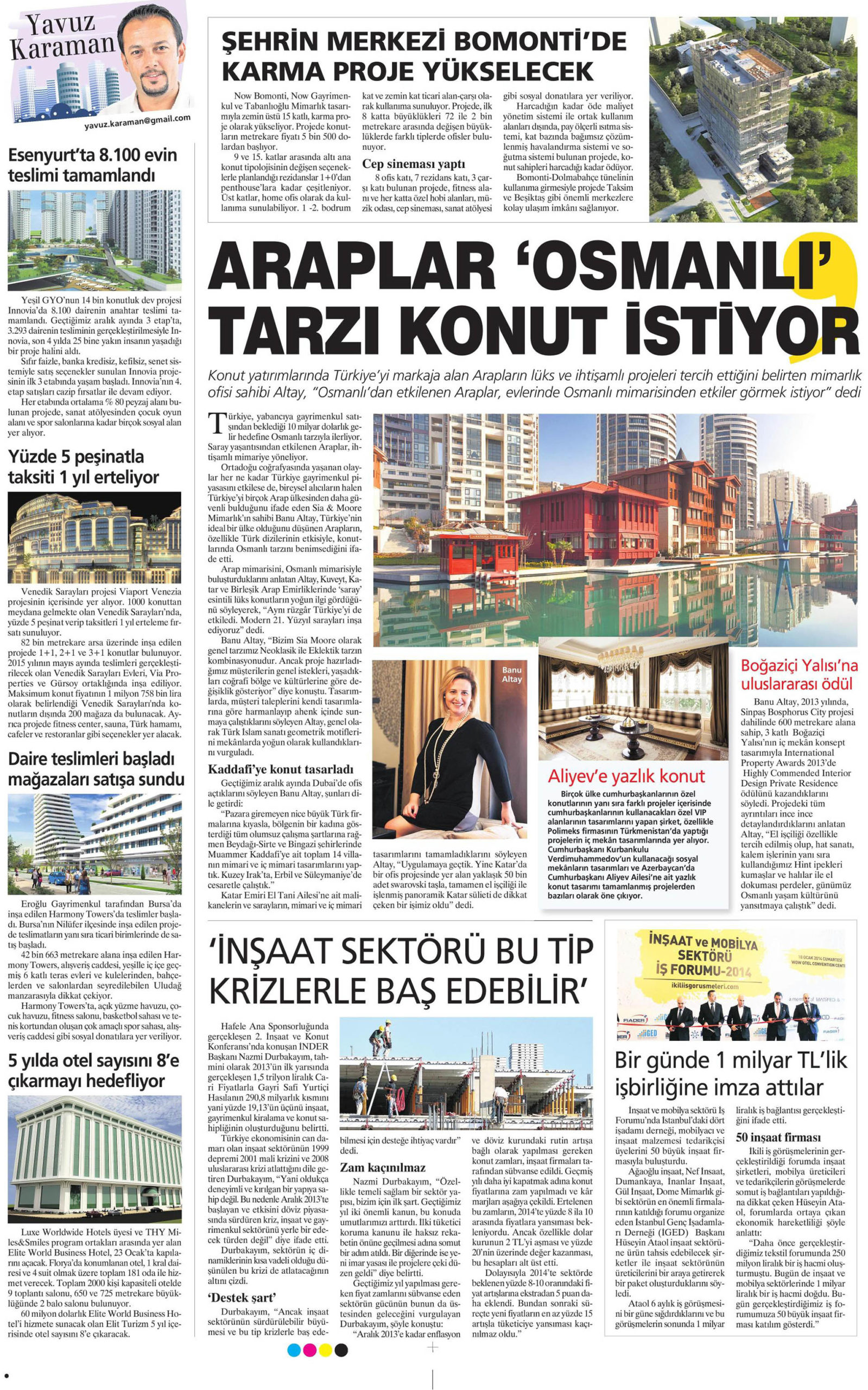 ARAPLAR, OSMANLI TARZI KONUT İSTİYOR
Konut yatırımlarında Türkiye'yi markaja alan Arapların lüks ve iktişamlı projeleri tercih ettiğini belirten mimarlık ofisi sahibi Altay, "Osmanlı'dan etkilenen Araplar, evlerinde Osmanlı mimarisinden etkiler görmek istiyor" dedi.
Türkiye, yabancıya gayrimenkul satışından beklediği 10 milyar dolarlık gelir hedefine Osmanlı tarzıyla ilerliyor. Saray yaşantısından etkilenen Araplar, ihtişamlı mimariye yöneliyor.
Ortadoğu coğrafyasında yaşanan olaylar her ne kadar Türkiye gayrimenkul piyasasını etkilese de, bireysel alıcıların halen Türkiye'yi birçok Arap ülkesinden daha güvenli bulduğunu ifade eden Sia Moore Mimarlık'ın sahibi Banu Altay, Türkiye'nin ideal bir ülke olduğunu düşünen Arapların, özellikle Türk dizilerinin etkisiyle, konutlarında Osmanlı tarzım benimsediğim ifade etti.
Arap mimarisini, Osmanlı mimarisiyle buluşturduklarını anlatan Altay, Kuveyt, Katar ve Birleşik Arap Emirliklerinde 'saray' esintili lüks konutların yoğun ilgi gördüğünü söyleyerek, "Aynı rüzgâr Türkiye'yi de etkiledi. Modern 21. Yüzyıl sarayları inşa ediyoruz" dedi.
Banu Altay, "Bizim Sia Moore olarak genel tarzımız Neoklasik ile Eklektik tarzın kombinasyonudur. Ancak proje hazırladığımız müşterilerin genel istekleri, yaşadıkları coğrafi bölge ve kültürlerine göre değişiklik gösteriyor" diye konuştu. Tasarımlarda, müşteri taleplerini kendi tasarımlarına göre harmanlayıp ahenk içinde sunmaya çalıştıklarım söyleyen Altay, genel olarak Türk İslam sanatı geometrik motiflerini mekânlarda yoğun olarak kullandıklarını vurguladı.
Kaddafi'ye Konut Tasarladı
Geçtiğimiz aralık ayında Dubai'de ofis açtıklarını söyleyen Banu Altay, şunları dile getirdi: "Pazara giremeyen nice büyük Türk firmalarına kıyasla, bölgenin bir kadına gösterdiği tüm olumsuz çalışma şartlarına rağmen Beydağı-Sirte ve Bingazi şehirlerinde Muammer Kaddafi'ye ait toplam 14 villanın mimari ve iç mimari tasarımlarını yaptık. Kuzey Irak'ta, Erbil ve Süleymaniye'de cesaretle çalıştık."
Katar Emiri El Tani Ailesi'ne ait malikanelerin ve sarayların, mimari ve iç mimari tasarımlarını tamamladıklarını söyleyen Altay, "Uygulamaya geçtik. Yine Katar'da bir ofis projesinde yer alan yaklaşık 50 bin adet swarovski taşla, tamamen el işçiliği ile işlenmiş panoramik Katar sülieti de dikkat çeken bir işimiz oldu" dedi.
Aliyev'e Yazlık Konut
Birçok ülke cumhurbaşkanlarının özel konutlarının yanı sıra farklı projeler içerisinde cumhurbaşkanlarının kullanacakları özel VIP alanlarının tasarımlarını yapan şirket, özellikle Polimeks firmasının Türkmenistan'da yaptığı projelerin iç mekân tasarımlarında yer alıyor. Cumhurbaşkanı Kurbankulu Verdimuhammedov'un kullanacağı sosyal mekânların tasarımları ve Azerbaycan'da Cumhurbaşkanı Aliyev Ailesi'ne ait yazlık konut tasarımı tamamlanmış projelerden bazıları olarak öne çıkıyor.
Boğaziçi Yalısı'na Uluslararası Ödül
Banu Altay, 2013 yılında, Sinpaş Bosphorus City projesi dahilinde 600 metrekare alana sahip, 3 katlı Boğaziçi Yalısı'nın iç mekân konsept tasarımıyla International Property Avvards 2013'de Highly Commended Interior Design Private Residence ödülünü kazandıklarını söyledi. Projedeki tüm ayrıntıları ince ince detaylandırdıklarını anlatan Altay, "El işçiliği özellikle tercih edilmiş olup, hat sanatı, kalem işlerinin yanı sıra kullandığımız Hint ipekleri kumaşlar ve halılar ile el dokuması perdeler, günümüz Osmanlı yaşam kültürünü yansıtmaya çalıştık" dedi.
Yavuz Karaman