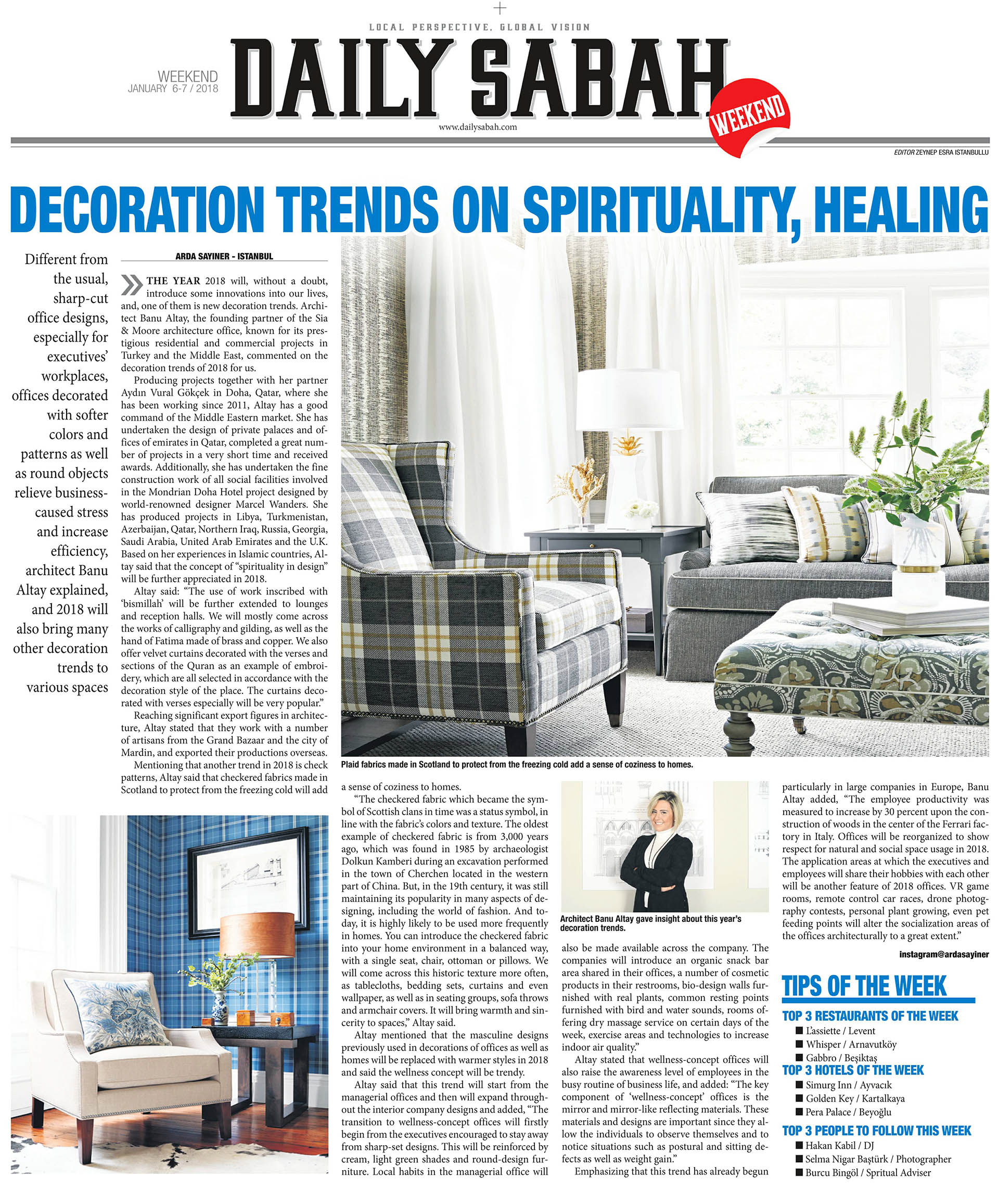 DECORATION TRENDS ON SPIRITUALITY, HEALING
Different from the usual, sharp-cut office designs, especially for executives workplaces, offices decorated with softer colours and patterns as well as round objects relieve business- caused stress and increase efficiency, architect Banu Altay explained, and 2018 will also bring many other decoration trends to various spaces.
The year 2018 will, without a doubt, introduce some innovations into our lives and one of them is new decoration trends. Architect Banu Altay, the founding partner of the Sia Moore Architecture office, known for its prestigious residential and commercial projects in Turkey and the Middle East, commented on the decoration trends of 2018 for us.
Producing projects together with her partner Aydın Vural Gökçek in Doha, Qatar, where she has been working since 2011, Altay has a good command of the Middle Eastern market. She has undertaken the design of private palaces and offices of emirates in Qatar, completed a great number of projects in a very short time and received awards. Additionally, she has undertaken the fine construction work of all social facilities involved in the Mondrian Doha Hotel project designed by world- renowned designer Marcel Wanders. She has produced projects in Libya, Turkmenistan, Azerbaijan, Qatar, Northern Iraq, Russia, Georgia, Saudi Arabia, United Arab Emirates and the U.K Based on her experiences in Islamic countries, Altay said that the concept of ''spirituality in design'' will be further appreciated in 2018.
Altay said: ''The use of work inscribed with ''bismillah'' will be further extended to lounges and reception halls. We will mostly come across the works of calligraphy and gilding, as well as the hand of Fatima made of brass and copper. We also offer velvet curtains decorated with the verses and sections of the Quran as an example of embroidery, which are all selected in accordance with the decoration style of the place. The curtains decorated with verses especially will be very popular.''
Reaching significant export figures in architecture, Altay stated that they work with a number of artisans from the Grand Bazaar and the city of Mardin, and exported their productions overseas.
Mentioning that another trend in 2018 is check patterns, Altay said that checkered fabrics made in Scotland to protect from the freezing cold will add a sense of coziness to homes.
''The checkered fabric which became the symbol of Scottish clans in time was a status symbol, in line with the fabric's colors and texture. The oldest example of checkered fabric is from 3,000 years ago, which was found in 1985 by archaeologist Dolkun Kamberi during an excavation performed in the town of Chechen located in the western part of China. But, in the 19th century, it was still maintaining its popularity in many aspects of designing, including the world of fashion. And today, it is highly likely to be used more frequently in homes. You can introduce the checkered fabric into your home environment in a balanced way, with a single seat, chair, ottoman or pillows. We will come across this historic texture more often, as tablecloths, bedding sets, curtains and even wallpaper, as well as in seating groups, sofa throws and armchair covers. It will bring warmth and sincerity to spaces.'' Altay said.
Altay mentioned that the masculine designs previously used in decorations of offices as well as homes will be replaced with warmer styles in 2018 and said the wellness concept will be trendy.
Altay said that this trend will start from the managerial offices and then will expand throughout the interior company design and added, '' The transition to wellness-concept offices will firstly begin from the executives encouraged to stay away from sharp-set design. This will be reinforced by cream, light green shades and round-design furniture. Local habits in the managerial office will also be made available across the company. The companies will introduce an organic snack bar area shared in their offices, a number of cosmetics products in the their restrooms, bio-design walls furnished with real plants, common resting points furnished with bird and water sounds, rooms offering dry massage service an certain days of the week, exercise areas and technologies to increase indoor air quality.''
Altay stated that wellness-concept offices will also raise the awareness level of employees in the busy routine of business life, an added: '' The key component of 'wellness-concept' offices is the mirror and mirror-like reflecting materials. These materials and designs are important since they allow the individuals to observe themselves and to notice situations such as postural and sitting defects as well as weight gain.''
Emphasising that this trend has already begun particularly in large companies in Europe, Banu Altay added, '' The employee productivity was measured to increase by 30 percent upon the construction of woods in the center of the Ferrari factory in Italy. Offices Will be reorganised to show respect for natural and social space usage in 2018. The application areas at which the executives and employees will share their hobbies with each other will be another feature of 2018 offices. VR game rooms, remote control car races, drone photography contest, personal plant growing, event pet feeding points will alter the socialisation areas of offices architecturally to great extent.''
ARDA SAYINER
https://www.dailysabah.com/life/2018/01/06/decoration-trends-on-spirituality-healing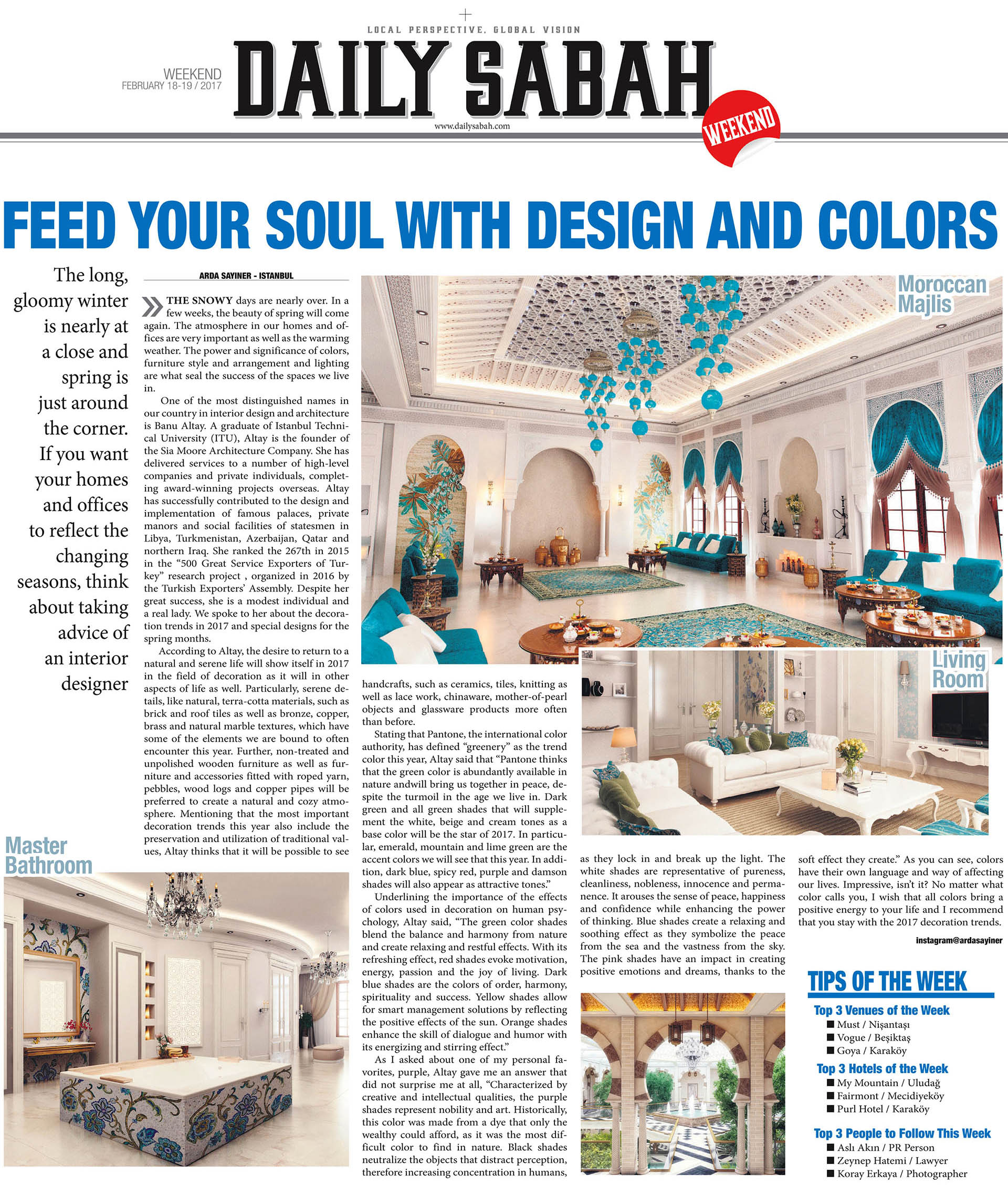 FEED YOUR SOUL WITH DESIGN AND COLORS
The long, gloomy winter is nearly at a close and spring is just around the corner. If you want your homes and offices to reflect the changing seasons, think about taking advice of an interior designer
The snowy days are nearly over. In a few weeks, the beauty of spring will come again. The atmosphere in our homes and offices are very important as well as the warming weather. The power and significance of colors, furniture style and arrangement and lighting are what seal the success of the spaces we live in.
One of the most distinguished names in our country in interior design and architecture is Banu Altay. A graduate of Istanbul Technical University (ITU), Altay is the founder of the Sia Moore Architecture Company. She has delivered services to a number of high-level companies and private individuals, completing award-winning projects overseas. Altay has successfully contributed to the design and implementation of famous palaces, private manors and social facilities of statesmen in Libya, Turkmenistan, Azerbaijan, Qatar and northern Iraq.
She ranked the 267th in 2015 in the "500 Great Service Exporters of Turkey" research project , organized in 2016 by the Turkish Exporters' Assembly. Despite her great success, she is a modest individual and a real lady. We spoke to her about the decoration trends in 2017 and special designs for the spring months.
According to Altay, the desire to return to a natural and serene life will show itself in 2017 in the field of decoration as it will in other aspects of life as well. Particularly, serene details, like natural, terra-cotta materials, such as brick and roof tiles as well as bronze, copper, brass and natural marble textures, which have some of the elements we are bound to often encounter this year. Further, non-treated and unpolished wooden furniture as well as furniture and accessories fitted with roped yarn, pebbles, wood logs and copper pipes will be preferred to create a natural and cozy atmosphere.
Mentioning that the most important decoration trends this year also include the preservation and utilization of traditional values, Altay thinks that it will be possible to see handcrafts, such as ceramics, tiles, knitting as well as lace work, chinaware, mother-of-pearl objects and glassware products more often than before.
Stating that Pantone, the international color authority, has defined "greenery" as the trend color this year, Altay said that "Pantone thinks that the green color is abundantly available in nature andwill bring us together in peace, despite the turmoil in the age we live in. Dark green and all green shades that will supplement the white, beige and cream tones as a base color will be the star of 2017. In particular, emerald, mountain and lime green are the accent colors we will see that this year. In addition, dark blue, spicy red, purple and damson shades will also appear as attractive tones."
Underlining the importance of the effects of colors used in decoration on human psychology, Altay said, "The green color shades blend the balance and harmony from nature and create relaxing and restful effects. With its refreshing effect, red shades evoke motivation, energy, passion and the joy of living. Dark blue shades are the colors of order, harmony, spirituality and success. Yellow shades allow for smart management solutions by reflecting the positive effects of the sun. Orange shades enhance the skill of dialogue and humor with its energizing and stirring effect."
As I asked about one of my personal favorites, purple, Altay gave me an answer that did not surprise me at all, "Characterized by creative and intellectual qualities, the purple shades represent nobility and art. Historically, this color was made from a dye that only the wealthy could afford, as it was the most difficult color to find in nature. Black shades neutralize the objects that distract perception, therefore increasing concentration in humans, as they lock in and break up the light. The white shades are representative of pureness, cleanliness, nobleness, innocence and permanence. It arouses the sense of peace, happiness and confidence while enhancing the power of thinking. Blue shades create a relaxing and soothing effect as they symbolize the peace from the sea and the vastness from the sky. The pink shades have an impact in creating positive emotions and dreams, thanks to the soft effect they create." As you can see, colors have their own language and way of affecting our lives. Impressive, isn't it? No matter what color calls you, I wish that all colors bring a positive energy to your life and I recommend that you stay with the 2017 decoration trends.
ARDA SAYINER